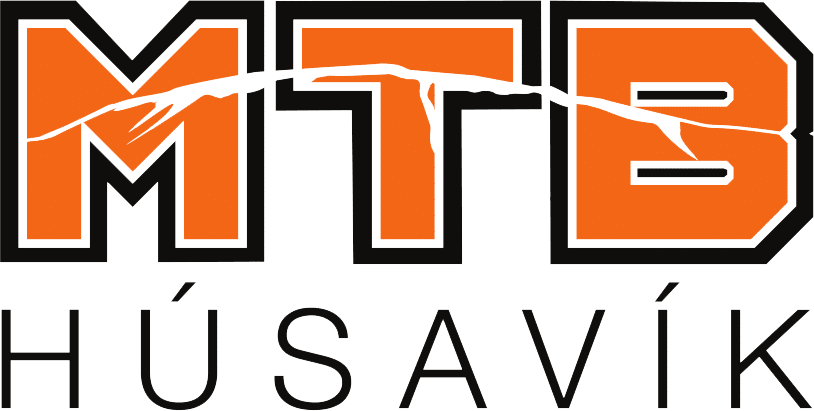 Jökulsárgljúfur National Park on Mountain Bike
one of the most beautiful singletrack in Iceland.
Only for experienced Bikers!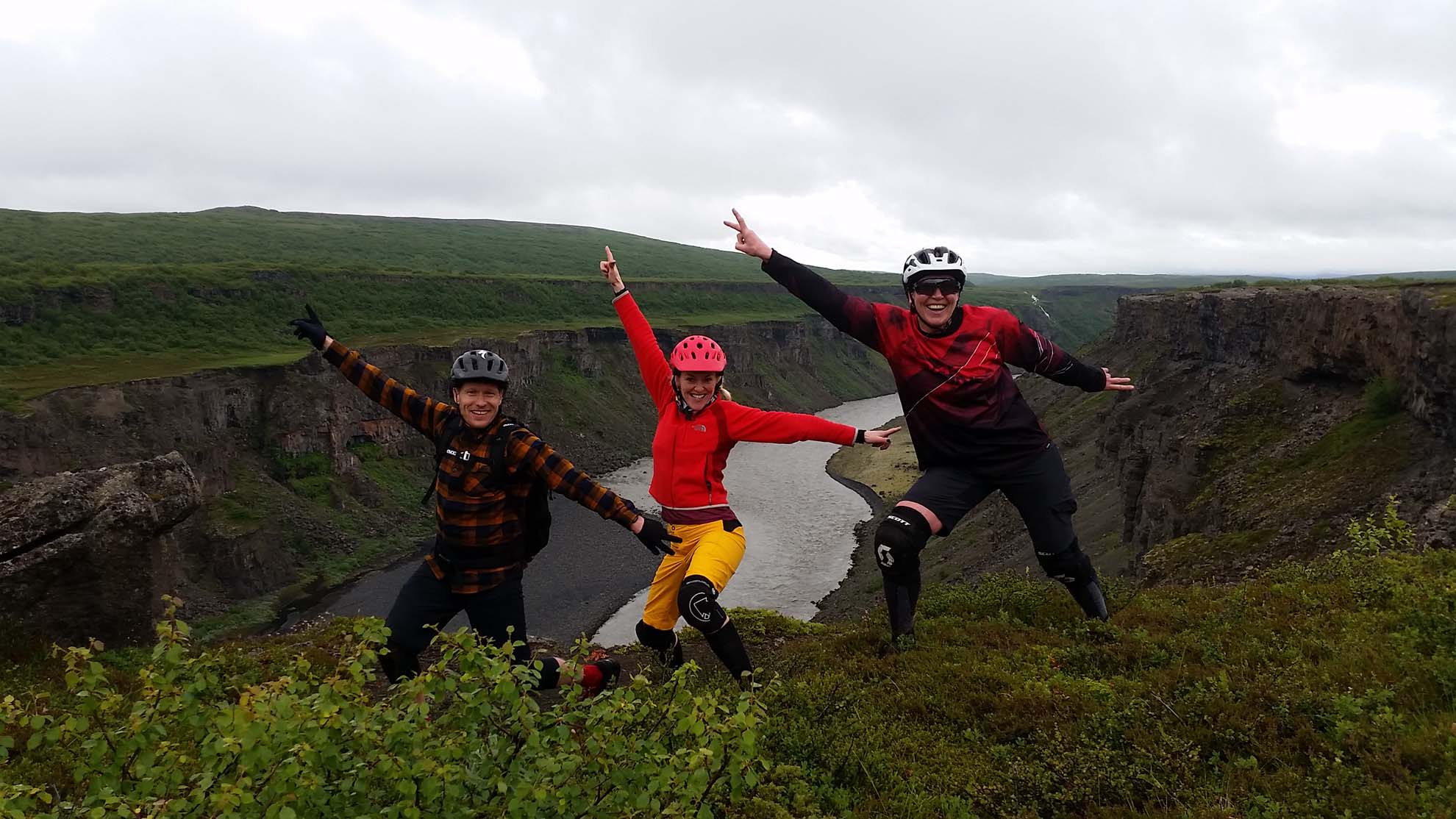 THEJOURNEY
Next we switch to an old horse trail through Svínadalur Valley which has recently been opened to bike traffic. There we pedal through charming single-track trails, and sometimes quite a lot of vegetation, which can be a lot of fun! Next we arrive in Vesturdalur Valley, which is yet another natural wonder in this area, and from the valley we move to a trail which leads us back up to the canyon by the red hills of Rauðhólar.
STARTINGPOINT
Our trip begins near Dettifoss, the most powerful waterfall in Europe. The first part of the trail is quite rocky and technically challenging for mountain bikers. Once we near the edge of the canyon we move on to crooked sheep tracks that wind through low bushes and over flat rock and rock trails. The view up there is simply incredible – seeing the way the Jökulsá River has carved out a deep path over the centuries is awe-inspiring and there is tremendous beauty no matter where you look. After the first 9 km (5.6 miles) we arrive in Hólmatungur, where we have to leave the sheep tracks for a gravel road in order to comply with the rules on biking in a national park.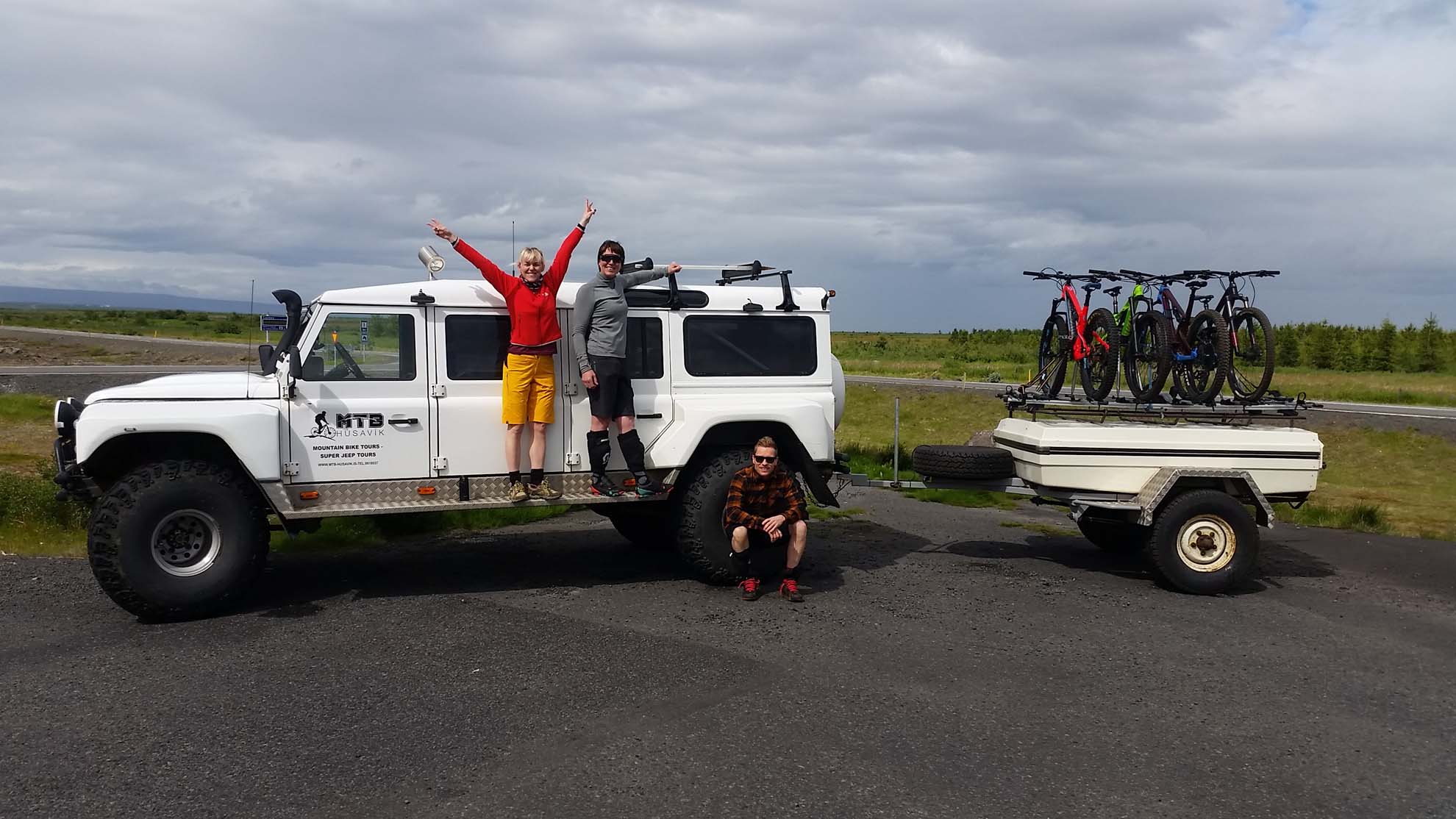 Highlights
Jökulsárgljúfur, Dettifoss, Hafragil, Hafragilsfoss, Hólmatungur, Svínadalur, Vesturdalur, Áshöfði, Ásbyrgi, Og Tjörnes.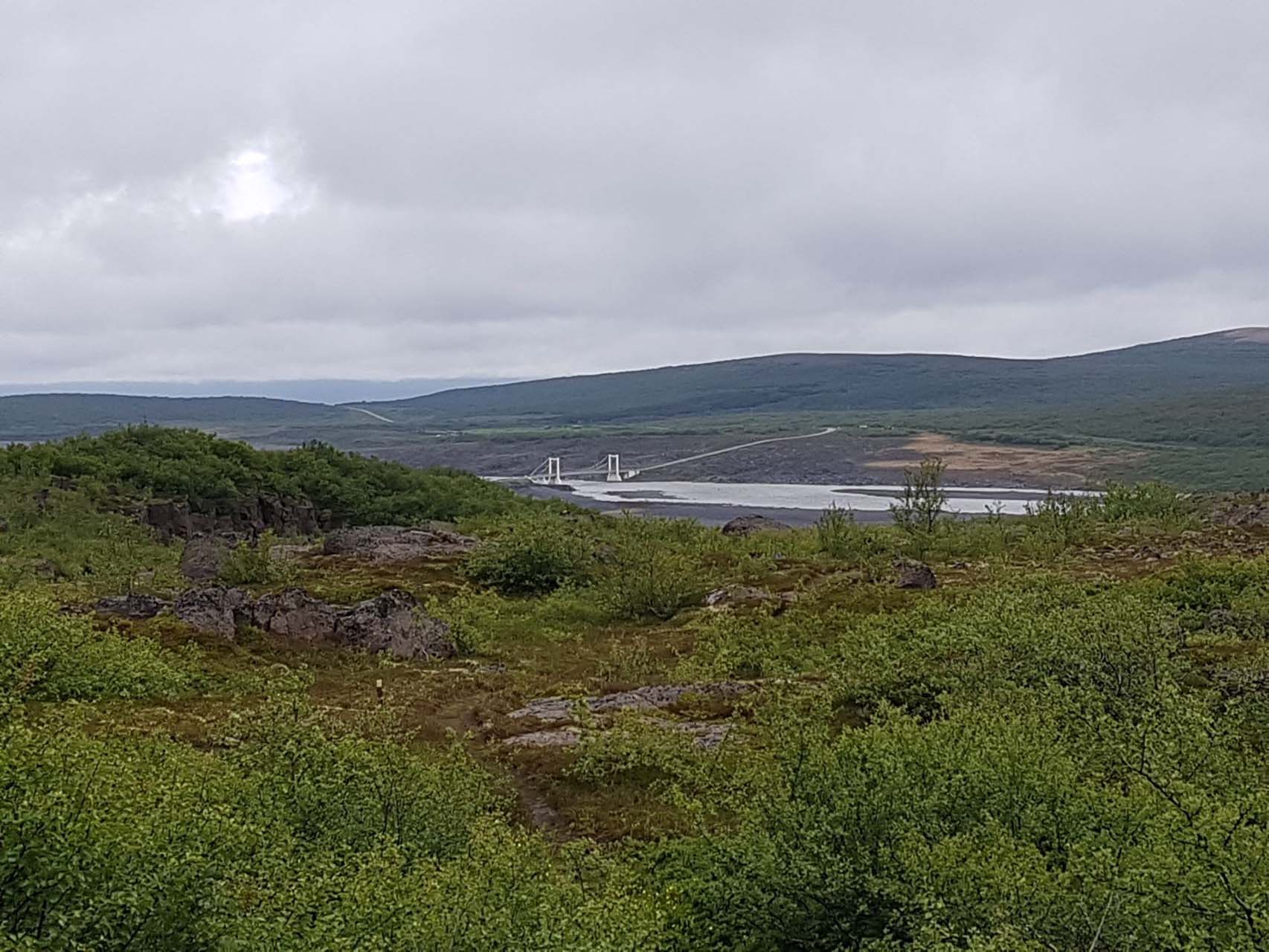 Very Important!!
Highly recommended to bring spare clothes, and of course dress according to weather. The tour starts at Húsavík, we drive jeep with the bicycles on cart to Dettofoss waterfall, we are dropped off at the location of the most powerfull waterfall in Europe!, on the route we are picked up 2 times on the way by jeep after 9 km and 21, the tour is 37KM long and only for experienced bikers.
Lake Ástjörn
We bike towards Ástjörn Lake and see the old bridge over Jökulsá in all its glory. A very short final stretch on asphalt makes you think about what kind of trip you have just undertaken on your bike! Truly amazing and you'll want to go again and again!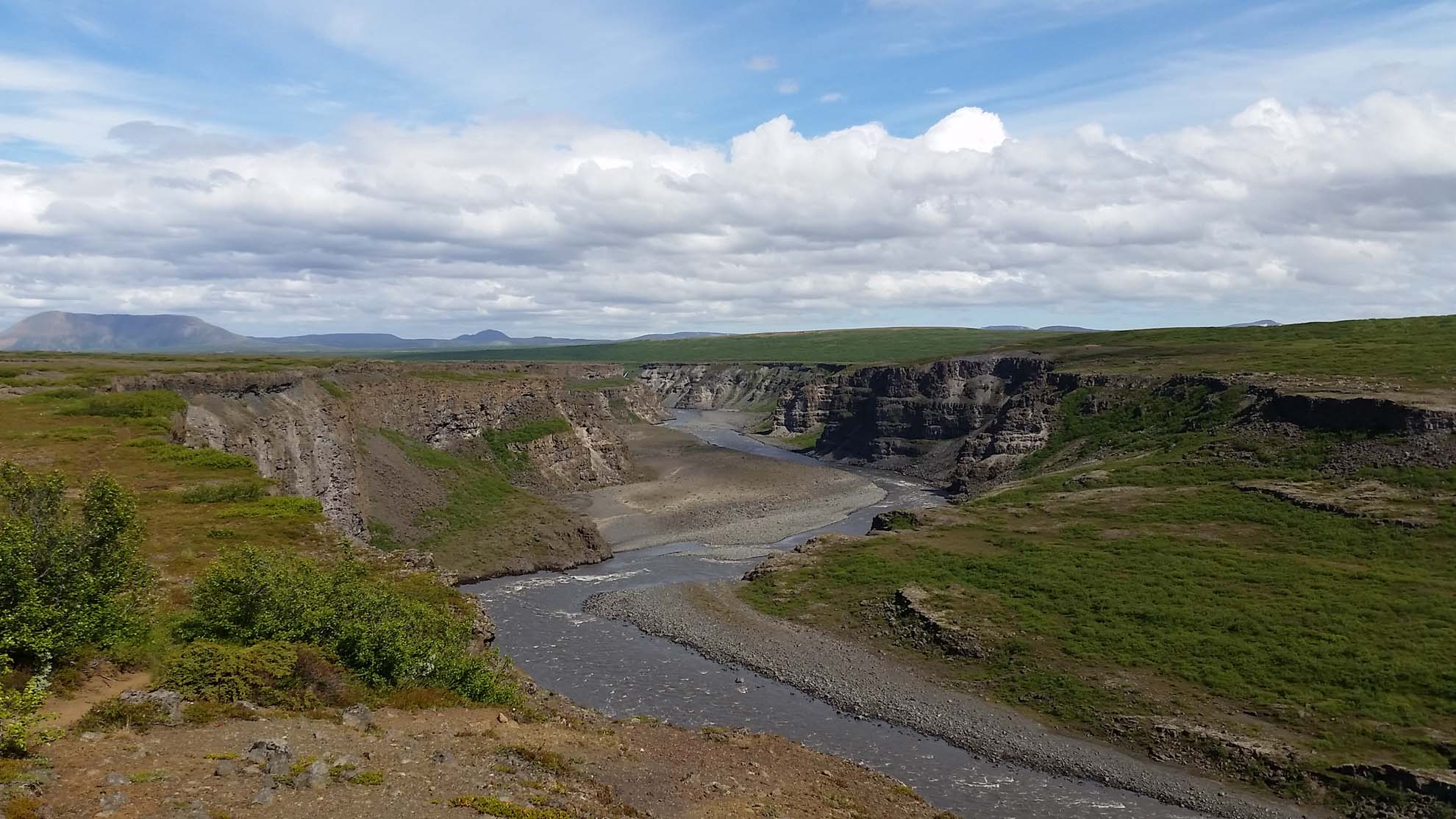 <div id="bokun-w16233_e07d7262_ca59_4dd1_bdc7_b67a3435dcef">Loading...</div><script type="text/javascript"><!-- [et_pb_line_break_holder] -->var w16233_e07d7262_ca59_4dd1_bdc7_b67a3435dcef;<!-- [et_pb_line_break_holder] -->(function(d, t) {<!-- [et_pb_line_break_holder] --> var host = 'widgets.bokun.io';<!-- [et_pb_line_break_holder] --> var frameUrl = 'https://' + host + '/widgets/16233?bookingChannelUUID=a2ce5dfd-013b-49e4-9cab-c1508cb96e58&activityId=50450&lang=en&ccy=ISK&hash=w16233_e07d7262_ca59_4dd1_bdc7_b67a3435dcef';<!-- [et_pb_line_break_holder] --> var s = d.createElement(t), options = {'host': host, 'frameUrl': frameUrl, 'widgetHash':'w16233_e07d7262_ca59_4dd1_bdc7_b67a3435dcef', 'autoResize':true,'height':'','width':'100%', 'minHeight': 0,'async':true, 'ssl':true, 'affiliateTrackingCode': '', 'transientSession': true, 'cookieLifetime': 43200 };<!-- [et_pb_line_break_holder] --> s.src = 'https://' + host + '/assets/javascripts/widgets/embedder.js';<!-- [et_pb_line_break_holder] --> s.onload = s.onreadystatechange = function() {<!-- [et_pb_line_break_holder] --> var rs = this.readyState; if (rs) if (rs != 'complete') if (rs != 'loaded') return;<!-- [et_pb_line_break_holder] --> try { <!-- [et_pb_line_break_holder] --> w16233_e07d7262_ca59_4dd1_bdc7_b67a3435dcef = new BokunWidgetEmbedder(); w16233_e07d7262_ca59_4dd1_bdc7_b67a3435dcef.initialize(options); w16233_e07d7262_ca59_4dd1_bdc7_b67a3435dcef.display();<!-- [et_pb_line_break_holder] --> } catch (e) {}<!-- [et_pb_line_break_holder] --> };<!-- [et_pb_line_break_holder] --> var scr = d.getElementsByTagName(t)[0], par = scr.parentNode; par.insertBefore(s, scr);<!-- [et_pb_line_break_holder] -->})(document, 'script');<!-- [et_pb_line_break_holder] --></script>
Bike size explained.

What kind of bike?